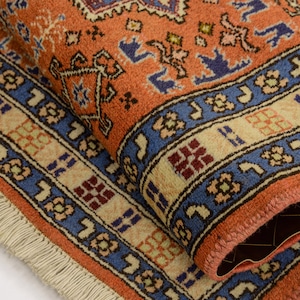 アルデビル / Ardabil 110cmx73cm
【商 品 / Product】P-132
【産 地 / Made in】アルデビル / Ardabil
【サイズ / Size】110cmx73cm
【素 材 / Material】ウール&シルク / Wool and Silk

イラン北西部の町で、古くから絨毯を作っていますが、メダリオンやエスリムといった伝統的な柄ではなく、コーカサス絨毯に似た幾何学文様を用いたものが多く、シルクとウールを使い薄く軽量な絨毯を作ります。

Ardabil is a town in northwestern Iran, where carpets have been made from old times. However, they do not make use of traditional patterns such as medallions and eslimi but makes use of geometric patterns commonly seen in Caucasian carpets. They make light and thin carpets using silk and wool.
*Tax included.
*Shipping fees are free on this item.