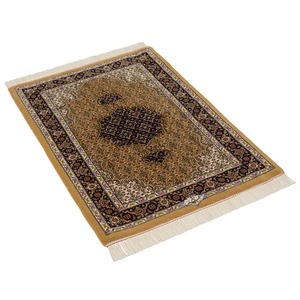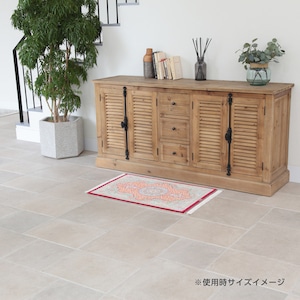 タブリーズ / Tabriz 91cmx65cm
【商 品 / Product】99-126
【産 地 / Made in】タブリーズ / Tabriz
【サイズ / Size】91cmx65cm
【素 材 / Material】ウール&シルク / Wool and Silk

イラン北西部の都市で、トルコにも隣接していることからヨーロッパなどの西洋を意識した絨毯が多く作られています。
その中でも、「マヒ柄」と呼ばれる「魚柄」の絨毯は、男性が鈎針を用いて制作することによって、強く頑丈な絨毯に仕上がります。その頑丈さ故、今もヨーロッパで長く愛されている絨毯です。

Tabriz is a city located in the northwestern part of Iran, and because it is near the borders of Turkey, the carpets made here are inspired from the western culture.
Among them, carpets with "fish patterns" known as "mahi patterns" are made by men using crochet needles, thus making them very strong and tough carpets. And because of their toughness, they are still loved by many Europeans.
*Tax included.
*Shipping fees are free on this item.