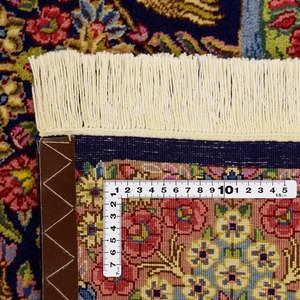 ケルマン / Kerman 270cmx174cm
【商 品 / Product】P-480
【産 地 / Made in】ケルマン / Kerman
【サイズ / Size】270cmx174cm
【素 材 / Material】ウール100% / Wool 100%

イラン南東部の町で古くは王室向けの絨毯工房が有り、荒涼とした土地柄故か花柄を配した絨毯が有名です。
古くなっても色褪せる事なく味わい深い色になる為、イランでは年を取るほど若く美しく見える人を「―ケルマンの絨毯のよう―」と例えます。

Kerman is town in the southeastern part of Iran, where there used to be a carpet workshop for the royal family. Because of its bleak landscape, Kerman is famous for carpets with flower patterns
Since the carpets do not fade but become very flavorful colors as time passes, in Iran they compare people who become more beautiful and beautiful as they age to a Kerman carpet.
*Tax included.
*Shipping fees are free on this item.