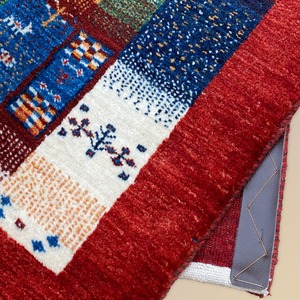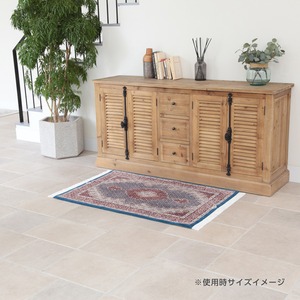 ギャッベ / Gabbeh 130cmx83cm
【商 品 / Product】201800167
【産 地 / Made in】シラーズ / Shiraz
【サイズ / Size】130cmx83cm
【素 材 / Material】ウール100% / Wool 100%

イラン南西部に位置するシラーズ州、ザクロス山脈周辺を遊牧するガシュガイ族。彼らの作る絨毯はそのままガシュガイと呼ばれますが、その中でも毛足が長く「粗い(ギャッベ)」絨毯の事をギャッベと呼んでいます。
天然の草木で染められ、木、鹿や羊が文様として織込まれ、「元気で暮らせますように」「家族が仲良く暮らせますように」と様々な意味が込められています。毛足が長くフカフカなのが特徴です。

ギャッベ模様の意味
https://www.senacollection.com/blog/2021/05/25/155518

Shiraz is a province located in the southwest of Iran where the Qashqai people live a nomadic life around the Zagros Mountains. The carpets made by these people are named after them and are known as Qashqai, but those that are thick and rough are known as Gabbeh.
They are died with natural plants and symbols of trees, deers, and lambs are weaved to wish for a healthy life and for a family to live peacefully together. They are known for their thickness and fluffiness.
*Tax included.
*Shipping fees are free on this item.